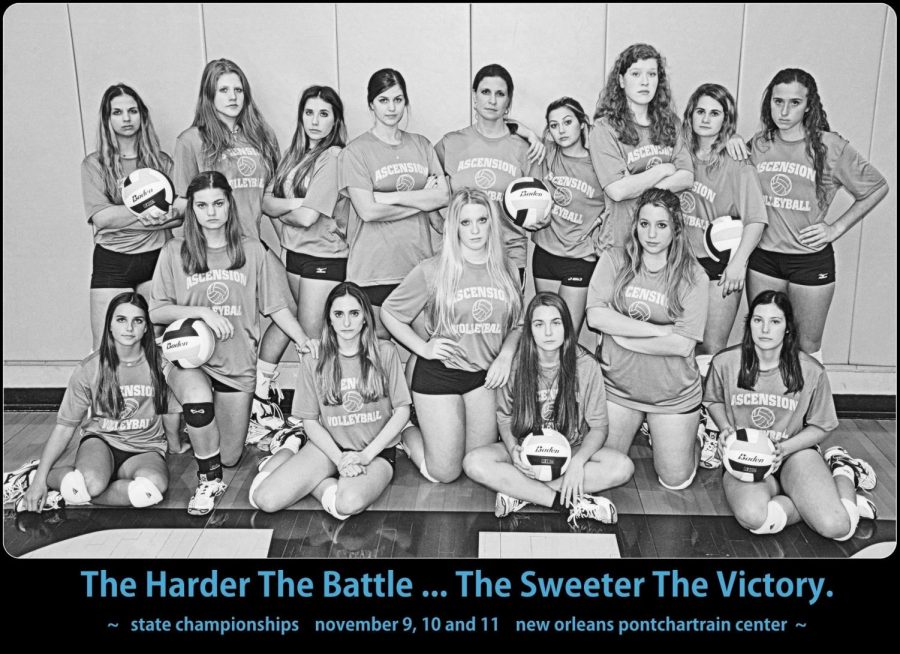 Once again, the Ascension girls' volleyball team is heading to state this Thursday, November 8. They have been working hard for this since July, starting with summer workouts and practicing every day, and they are ready. This year, to try something new, they went to Florida for team camp at the University of Florida, where they played other teams from around the country and had help from the Florida players and college coaches. Junior Ashlee Sandridge said, "Team camp was a great experience where we learned a lot."
The volleyball team is 30-8. This year during the pink game, Ascension made school history by being the first Ascension volleyball team to beat STM. It was a proud moment for the girls, who were a part of making school history. Senior Gabbi Tremblay said, "It was the best game of the season because we showed energy and teamwork and love for the game, which is what our team is all about." For the past two years, the girls volleyball team has been state runners up, and this year, they are ready to play. There will be two seniors, Gabbi Tremblay and Carolina Cordova, playing this year.
This year, the team is going into state with a third seed ranking and playing their first game on Thursday, November 8 at the Pontchartrain center. This game will be against St. Martins Episcopal at 2:30. It is expected that, on Friday, the semi finals will be played against McGehee, where the times will be announced later, and on Saturday, the finals will most likely be played against Country Day. The three games will be challenging but exciting, and the girls are ready. Check back next week for updates on how the girls volleyball team did!