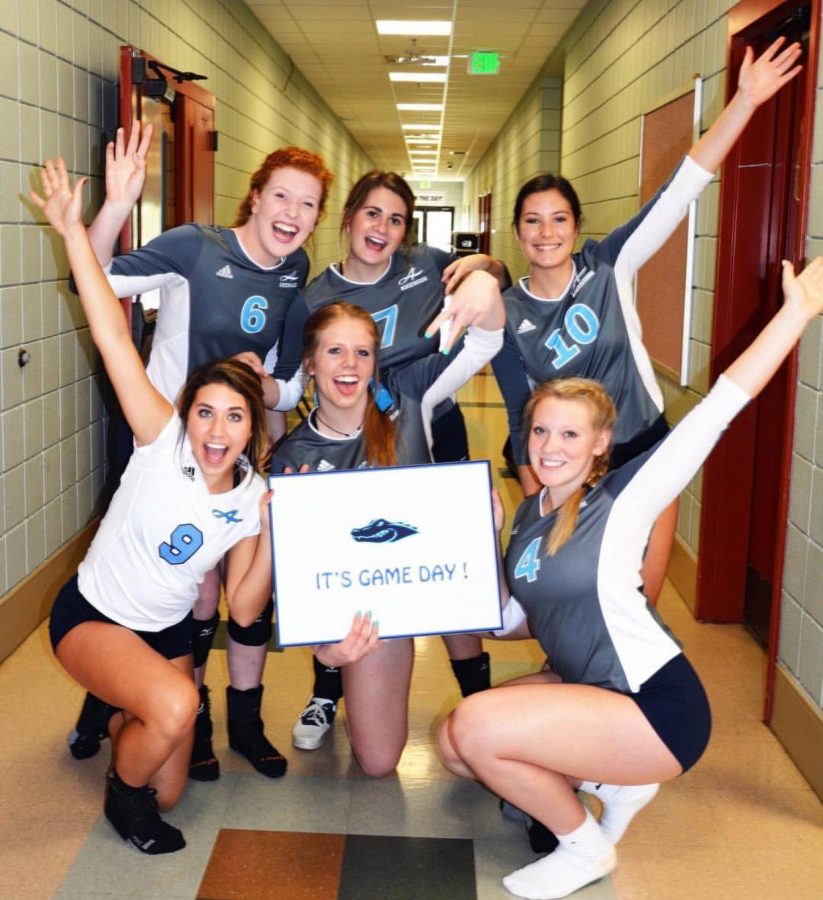 Last week was a very emotional time for many of the volleyball players, as the seniors on the team were recognized on Senior Night. The night began with a special dinner of a yummy sausage alfredo and Olive Garden salad with bread sticks. After the team finished the meal, the first of many tears began to fall. The varsity team surprised the seniors with many sweet presents, including a journal with sweet notes left for the seniors to read and hold onto when we're missing them a little extra. Next, Coach Jill had a speech prepared to share her favorite thing about the seniors and left them with a sweet card wishing them the best. The last thing that took place before the game was the presentation of each senior girl. The presentation consisted of each senior being presented by their parent while a speaker spoke about the senior. Then, after the presentation, the school presented each senior with a gift. The gift was a necklace with the school crest with a silver bar that said volleyball. Liz Tremblay, teacher and mom here at Ascension, was in charge of senior night. When asked to share her point of view on the night, she says, "Planning senior night for the volleyball team was a rewarding experience. I was able to combine my love for serving others, organizing events, and celebrating the accomplishments and aspirations of our youth. One of of the senior players was my sweet daughter, which just added to the specialness of the event for us. It's a special time for our seniors as they continue to pursue God's plan for their lives."
Now to introduce the seniors of honored in this special event. On the team, we have Carolina Cardova and Gabbi Tremblay. Carolina has been apart of Ascension Volleyball for five years now and her favorite thing about the team is that they are like a family. Gabbi has been apart of Ascension for three years and her favorite thing about the team is how much they love each other and their acceptance of all your weird quirks. As well as these two players, we have managers Selia Abshire and Elayna Diaz. Selia was once a player on the team but decided she could better serve the team as manger. Elayna was also once a player but had a shoulder injury preventing her from playing, so she became manager to serve the team where needed.
Moving forward onto a new chapter of our lives is going to be a very new and different thing. I think I can speak for all the seniors when saying we have learned some valuable lessons and made some lasting friendships that will be taken with us wherever we decide to go. I would like to take this time to say how thankful I am for this experience and being able to be apart such an amazing program. I became friends with an amazing group of girls and am going to be sad to leave them next year but can't wait to come visit and see the amazing things they will accomplish next year. I am going to take away many things from this program but I learned that with dedication and passion for the game can take you a long way. Lastly we got some insight on senior night from junior Alaina Hardy and she said, "Senior night was emotional as frick. My favorite part was whenever we were eating and Coach Jill gave talks about each of y'all." Coach Jill taught me many things but the biggest thing I am going to take away from her being my coach is how to believe in myself.