Ascension Choir's Weekend at Mississippi State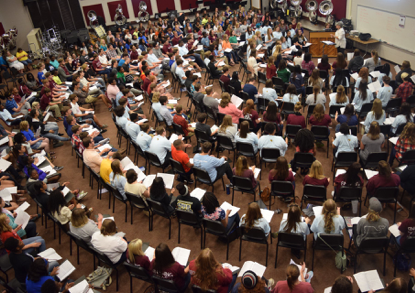 Ascension's choir had a successful weekend at the annual Mississippi Stare Choral Colloquium. The choral workshop that took place September 9th through the 10th welcomed high school choral groups from Alabama, Mississippi, and Louisiana. In addition to Ascension, other schools from the Lafayette area that attended were Lafayette High and North Vermillion. Ascension's choir left early Saturday morning and upon arrival, they received 4 different pieces of music. They spent that day and the next practicing hard and perfecting the pieces in preparation for the concert taking place at the end of the program.
Everyone that attended the workshop put in a lot of work with almost 6 hours of rehearsal time just the first day! Saturday evening the choral groups were treated with a special performance from Mississippi State singers. Before getting a good night's rest, some of the girls decided Insomnia Cookies would be a great end to an even better day. The next morning, the choir practiced for three hours, followed by some yummy barbecue for lunch, and then they finally departed for First Baptist Church, where the concert would soon take place. When asked how Ascension placed, Senior Madeleine Thibeaux replied, "Since it was a workshop, we were not judged, but I would say that Ascension had the most fun out of all of the choirs!"
Between all the singing and learning that went on during the two days, the entire choir was able to bond and learn more about each other. Thibeaux said, "I think that most everyone would agree with me; the time spent laughing and cutting up was the most valuable part of the experience." She explains how the group is together in the classroom at school everyday, but they rarely get to see each other as a group outside of school. Ascension's choir has really grown through the years and has especially grown since their first time attending the Mississippi State Chora Colloquium three years ago. We are so proud of how far they have come and can't wait to hear all the new things they learned!