Blue Gator Football Hands Out Another "L"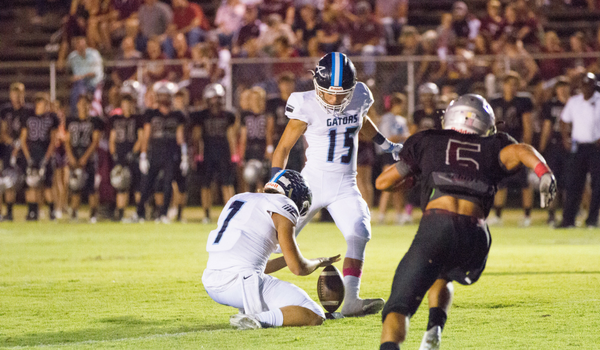 Last Friday night the Blue Gators traveled to Vermillion Catholic High School in Abbeville to face the Screamin' Eagles in what would be one of the best high school football games of the season. From the minute the ball was kicked to start the game, there was endless effort given by the both squads.
The Blue Gators struck first when Vascocu ran into the end zone, but the Eagles answered immediately with a 10 yard touchdown pass. Tied at 7-7 the Blue Gators drive down the field and take the lead 10-7 with a 23 yard field goal by Taylor Doss, but again the Eagle answer immediately with another touchdown pass to take the lead 14-10. The next Blue Gator drive Doss hits another field goal, this time from 43 yards out (a new school record) making the score 14-13. Before halftime, the Blue Gators tacked on 2 more touchdowns to make the score 26-14.
The third quarter was a little rough for the Blue Gators as the Screamin' Eagles came back and took the lead 27-26. But when the 4th quarter began, it was all Blue Gators. Taking the lead 40-27 the Blue Gators almost had the game secured when Vermillion Catholic scored a touchdown to make the score 40-34. In the final seconds the Screamin' Eagles were driving down the field when a pass by Lege was intercepted by Ronald LeBlanc to secure the game for the Blue Gators.
The game was truly a sight to see, the crowds from both schools were so loud that often times football players claimed they could not hear the play being called. With the Blue Gators moving onto 6-0 and seeded #1 in the power rankings, the rest of the season will be crucial and very exciting.
Geaux Gators!