New JV Cheerleading Squad!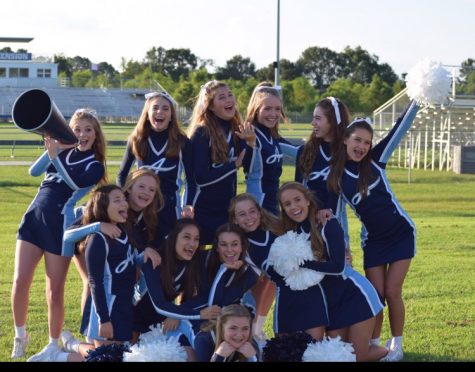 This year, for the first time in Ascension history, over 30 girls signed up for cheerleading leading to the need and creation of a JV Squad. The two squads were separated by grades, meaning that all freshman and sophomores have to participate on the JV squad.
JV captain Taylor Domingue (10) feels that "it is unfair for the girls on JV this year who had previously cheered on Varsity." Domingue, like many others, feels that underclassmen who cheered in the past should have been grandfathered into the Varsity squad or have been able to tryout for the Varsity squad, because they have become accustom to being a Varsity Cheerleader. Lauren Franques (9), for example misses "cheering at Varsity games." For over half of the the now JV cheerleaders, the one thing they miss most about last year is cheering for their favorite team on Friday nights. Some other girls, like Ella Sheets (10), miss the stunts that the larger squad last year was able to accomplish; she said that, "stunting is not as fun this year because we cannot do as many stunts since everyone is flyer [the girl in the air] size." Besides a couple of negative effects created by the formation of the JV squad, many positive things have also occurred.
Grace Sheets (10) for example said that "practicing with less people makes communicating easier and allows practices to be more productive." Unlike in the past, where practices were over an hour, three times a week, JV practices this year were able to be shortened to one hour just twice a week. Lillian Broussard (10) thinks that "if we were one big squad, we won't get stuff done."
Olivia Matherne (11) is a Varisty cheerleader and is very happy with the dividing of squads because like Sheets and Broussard she thinks that "the idea of a JV squad is beneficial to everyone as we can work on bettering specific skills on a smaller scale". Many of the JV girls are enjoying have more individual time with their coaches.
When asked, cheerleading coach, Grace Thibodeaux said that she is "so happy with how the two squads have each succeeded so far this year!" She also said that having one big squad "limited talent," so this year each squad gets to do more personalized performances.
Another benefit of a smaller squad brought up by Mia Theriot, is that all of the girls are able to give their input on different decisions being made; she knows that Coach Thibodeaux and the captains are willing and able to listen to what she has to say.
Anna Grace Franques (9) brought up another great point: she likes that she gets to cheer for her own grade this year. For the first time the JV football team is supported by the JV cheerleading squad at both home and away games. Many other girls like Virginia Vascocu (9) like having their Friday nights free.
Overall, with a growing school like Ascension, splitting up cheerleaders into two squads was inevitable, and was done with everyone's best interest in mind. The new squad is off to a great start! Jenni Cucchiarra, JV sponsor said that "the whole squad works incredibly hard to master every challenge given to them."