Sadie Hawkin's Contest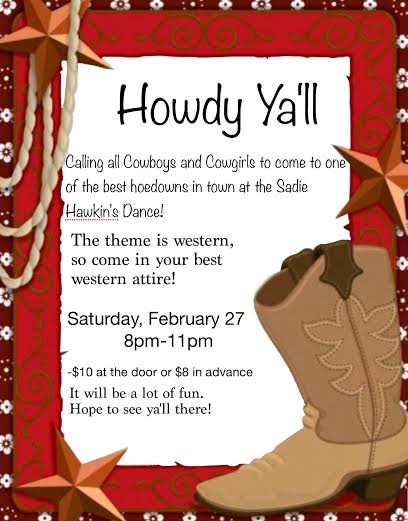 So in case anyone forgot, remember these important tips for asking a guy to Sadie's:
Step 1: Find the Target– "You can't just jump into the deep end and expect to float!"
Step 2: Attract the Target- "Do whatever necessary to get that guy's attention because Feb. 28 depends on it"
Step 3: Retain the Target- "Just hold your bladder and be careful not to blush because composure is key when you get this far in the game!"
Step 4: Claim the Target- "You may have to get nasty, but just know that guys don't mind a little bit of tension."
Step 5: Obtain the Target- "Once he is yours in the minds of the girl population, you have made great strides towards achieving all that you wanted to begin with."
(courtesy of The Red Leger)
That step five is the most important part. The more creative you are with the way that you ask, the more likely he is to say yes. That's why we're giving a $30 Starbucks gift card to whoever comes up with the most unique way to ask someone to Sadie's. Just send a picture of how you asked (be it cupcakes with cool icing designs, a poster, etc.) and e-mail it to [email protected] by Wednesday, February 24. All entries will be put out into a google doc and sent out to the whole school for voting on the top 3 best ideas.
First place is a $30 Starbucks gift card, and second and third place will receive a $15 and $5 gift card to Starbucks, respectively.
Winners will be announced on Friday, February 26.