November and December Students of the Month: Reece McDaniel and Grace Hill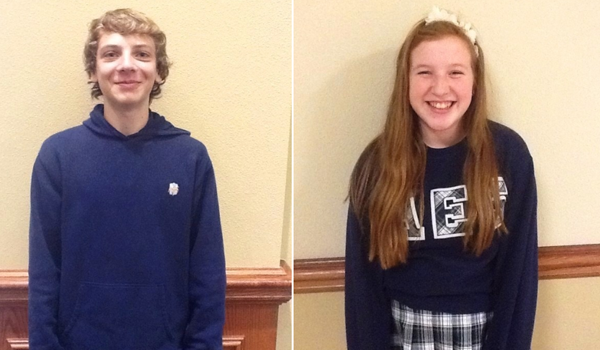 As most of you should know, Ascension recently brought back the tradition of electing a students of the month, sponsored by the Acts of Random Kindness Club.
The student of the month title recognizes a student who exudes our school motto, GGTKB. GGTKB stands for gentle, generous, truthful, kind, and brave.
In the month of November, Freshman Reece McDaniel received the title as student of the month.
Reece was nominated because he always opens doors for other students, offers to carry  their bags, and is overall just very helpful.
"It's a huge honor, I never thought I would actually win, I always thought about winning but never thought it would ever happen", says Reece.  " It's such an awesome feeling to have people recognize and reward you for things you just naturally do."
Reece was born in Baton Rouge, then relocated to Breaux Bridge and has been there ever since. He also plays basketball, runs cross country, and is in the Drama Club. His favorite hobbies are hunting, fishing, playing guitar, and writing. He believes that kindness intends to make people feel good, and when we give kindness, it brings out the best in others and ourselves. He then adds, "I want to be apart of the process."
In the month of December, Grace Hill was elected student of the month.
Grace feels very honored to be receiving the title, she is so grateful that members of the student body noticed her generosity.
Grace lives in a household of four siblings and is involved in many extracurricular activities. She is involved with a youth group at her church, plays volleyball, basketball, and is a cheerleader! Grace also spends her summer at camp for a month, she loves to sing, and she's a red head!
Her philosophy on life is centered around Jeremiah 29:11 "For I know the plans I have for you, declares the Lord, plans for welfare and not for evil, to give you a future and a hope".
Congratulations Student of the Month's!
Leave a Comment